Ravalli County Museum & Historical Society
Dawson's Adventures is now available on You Tube!  Follow Dawson Berglund as he explores history at Ravalli County Museum!
We are pleased to announce that the Ravalli County Museum is now open to the public. We are following social distancing, proper hygiene, and personal protection guidelines set forth by the Governor of Montana and the CDC. It is not mandatory for visitors to wear masks but it is appreciated. Due to the need to stagger shifts for staff members who are high risk we have temporarily changed some of the days we are open to the public.
Temporary hours:
Wednesday – 10am to 4pm | Thursday – 10am to 8pm | Friday – 10am to 4pm | Saturday – 9am to 1pm | Closed – Sunday, Monday, and Tuesday
Our Antiques & Collectibles Auction has been rescheduled for July 25th and we are accepting donated items. If you have a donation, please contact David Bethman at bottlevault@yahoo.com or at (360)927-2408 to arrange a drop off or pick up!
Please check back with us for updates on our events and exhibits.
For general questions, contact Nancy at: asst_director@ravallimuseum.org
For questions relating to festivals and vendor booths, contact Sarah at: marketing@ravallimuseum.org
For questions relating to historic collections: collections@ravallimuseum.org
(We are not currently accepting donations of items for Collections, please contact us for further information)
For questions relating to archival research, contact Bill at: rcmuseumarchives@gmail.com
The Ravalli County Museum, located in Hamilton, Montana, houses many unique and rare historical collections from our Native American heritage and establishment of Montana's first white settlement in the heart of Ravalli County.is now

The Ravalli County Museum is uniquely situated in the Bitter Root Valley at a confluence of three historic and nationally recognized trails. The Ice Age Floods National Geologic Trail, the Nee-Me-Poo National Historic Trail and the Lewis and Clark National Historic Trail. This summer begins our journey and discovery of these three trails.
The Ravalli County Museum has a three tiered focus of art, local history and natural history. There are a total of twenty-eight galleries and chambers. Nine are exhibition rooms, with six permanent displays that are created from the Museum's extensive collections.
We provide a cultural venue to enrich the experiences of our community through programming and educational opportunities for people of all ages.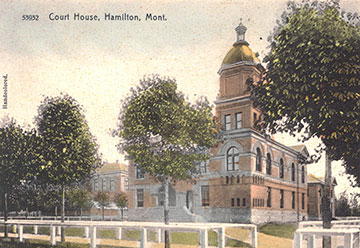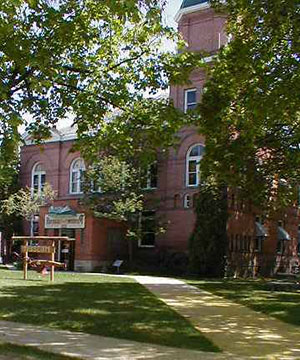 The Ravalli County Museum is the repository for historical information, artifacts and collections for all of Ravalli County. For more information, visit our About page.
Interested in getting involved in YOUR local Museum? There's plenty of ways:
The mission of the Bitter Root Valley Historical Society is to acquire, preserve, protect and interpret the historical and cultural heritage of the Bitter Root Valley and its people. Ravalli County Museum is operated and supported by the Bitter Root Valley Historical Society and is a 501c3 IRS qualified charitable organization.
Ravalli County Museum is ADA Accessible