Caryn Carpenter has for the last two decades worked as a teacher and copy editor. She fell in love with the valley in her youth when she fought fires with the Bitterroot Hotshots down in Darby.  She loves Ponderosa trees, coffee and the museum's Tool Room. Having her property and vintage tools used in the making of the Cron Tool Room virtual tour was exciting.  "I've never seen a "movie" made.  All the crew knew exactly what to do and I loved using my old tools again."  Caryn's log cabin and acreage outside of Hamilton proved the perfect back drop for the Cron Tool Exhibit.  You can see the exhibit under the Virtual Tours on our website.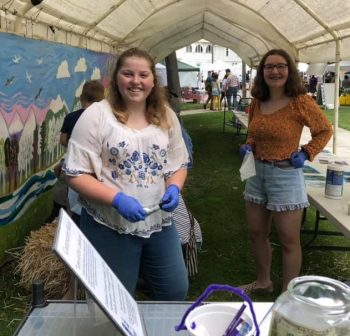 Cheyenne is a Hamilton High School student. She has volunteered in our Saturday morning Adventure Series for two years.  "I really enjoy the kids and the projects the museum's educator, Nancy Joy, creates are fun with a learning element."  Cheyenne looks forward to bringing her classmates to the museum in the fall for upcoming field trips.
Bob Hafer is a retired US Army Master Sergeant and self educated computer and "tech wizard." He claims he's a "gofer," (you know, go fer this and go fer that,) but his skills exceed far beyond the numerous errands he runs for the museum. Bob has retired from being our IT guru to working in the NEW museum garden on the east side of the building. According to Bob, his new tools are his "rake, hoe and shovel!."
Mike McEachern has been a valuable volunteer at the Museum since 2007. His skills that came from being a computer systems analyst lend well to our tech needs and his background in archaeology gave him a love for things of the past. Along with archival work and tech support, Mike also takes part in exhibit research and set up.
When asked why he loves this Museum, he'll tell you, "I'm a history buff, I like old things."
Kent Stenzel volunteers in the archives department He is here regularly, taking care of the organization of our card files, scanning various documents and papers and archiving important stories and obituaries.
In his words, the Museum is a "great place with a great staff and a great opportunity to share with others the beauty of the Bitter Root's Ravalli County, Hamilton, and the wonderful people who shaped this area."
Ken McBride develops and maintains scanning protocols for the Ernst Peterson Photograph Collection, trains staff and volunteers on scanning procedures, and scans images to archival standards.
"Volunteering at the Museum is a pleasure and is rewarding. The Peterson photo Collection is large, diverse, and worthy of digital archiving."